Although the threat of severe storms and winds forced Dierks Bentley to make a tough decision to cancel his seventh annual Miles and Music For Kids Charity Ride and concert last weekend in Nashville, our philanthropic DB Congress president still found a way to do "something" for a few hundred fans who had traveled many miles to raise money for sick kids.
"It was a tough call, but we had to make it for everyone's safety," said Bentley. "But, we still had so many fans in town who traveled, sometimes hundreds of miles to help support Vandy's Children's Hospital, I felt like we had to find a way to do something to thank them for their time and donations over the past seven years. We decided to run across the street (Hard Rock Cafe), invite anyone still hanging around and before we knew it, the place was packed out."
Turns out, "hundreds of miles" was more like thousands for DB Congress members, who made the annual trek again this year--to the tune of
12,764
total DRT (Dierks Road Trip) miles. We live and breathe Dierks's motto, 'Every Mile A Memory.'
On MM4K Eve (Saturday), DBC held session at Joe's Crab Shack, where 23 members from 10 states signed get well cards for the kids. Now we know how Dierks must feel signing his autograph for hours on end!
Southern Biker Magazine owners Randy and Kristin Gracy joined us and helped sign cards. They told us about 3,000 bikers had registered for the event!
Front: Sandra; Sitting: Janet, Ronna, Carrie, Sue, Harriet, Becky, Kathy; Standing: Alicia, Kristin, Emily, Ann, Randy, Kristin, Julie, David, Amanda, and Jane, Joe's Crab Schack, 10/13/12
Organizer, David Mattingly-KY)
Sunday morning, we woke up to an overcast sky overlooking the Riverfront stage. Heavy winds and all day rain storm news dampened our spirits as we followed the unfolding updates on DB's Twitter page:
"we have been watching the weather all week and unfortunately, not looking good. today's weather image...
Have to postpone Miles & Music today bc of dangerous wind & storms moving into Nashville. Thx to all for ur support...
can't tell you all how disappointed i am and my team is about today. we have been looking forward to this day for a year...
our fans came a long way to get here, and spent money to do so. and wanted to raise money for #vanderbiltchildrenshospital. thank you guys"
Then Dierks retweeted THE BIG 98 WSIX:
We were ready, but mother nature wasn't. :(
#
milesandmusicforkids
pic.twitter.com/O6Mf78xl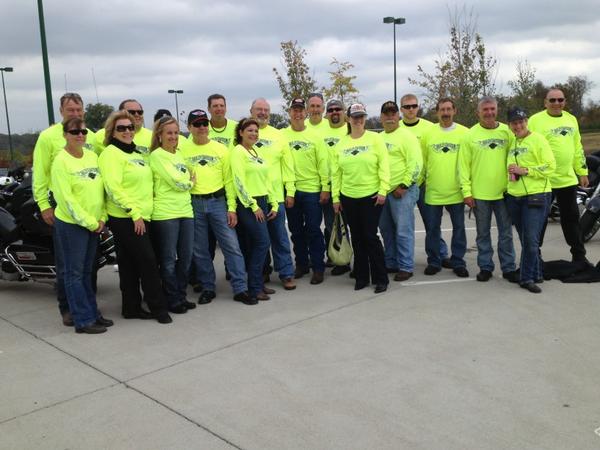 We decided to take a ride out to the Harley Dealership anyway, to pick up our T-shirts, and David met the lady from the hospital to drop off the get well cards for the kids. To our surprise and delight, Dierks showed up! He announced to a crowd of about a hundred he wanted to do something since the event was cancelled and invited everyone to the Hard Rock for an impromptu concert!
Eric Close (Rayna's husband, Teddy on TV's new show, "Nashville"), told me he was looking forward to meeting Dierks and he got his wish! Later that day, he donated an autographed script for the auction.
Dierks and Eric Close at The Harley-Davidson Dealership, Columbia, TN 10-14-12, Photo Credit: Ronna Clark
Eric Close at The Hard Rock Cafe Nashville, 10-14-12, Photo Credit: Carrie Srebro
Since the Hard Rock only holds about 250 people, we left shortly after to drive the 40 miles back to downtown. We were shocked to already see about 70 people in line! But the Hard Rock Cafe went above and beyond trying to get as many people in the door as possible. When the upstairs was full, they opened up the doors and let people onto the balcony and downstairs. Although they couldn't see Dierks, they could hear him and watch on one of the many screens throughout the venue.
This was a first MM4K trip for DB Congress members, Harriett, Sandra, Becky, Janet. Here are their favorite memories from the weekend:
"
I DRT'd about 980 miles. My two favorite memories: first was hearing "Wish It Would Break" live for the first time and the second was standing at the dealership when a limo pulled up. Lots of people in the crowd assumed DB was going to get out of the limo, but the DBC reps were all thinking, "nope probably not how he would choose to travel there!
" - Harriett Watkins (NC)
"I believe it was around 1250 miles
. My favorite part was creepin' with Carrie and Kathy." -Sandra Grub (NC)
"My miles were 1370 and my favorite memory is asking Dierks about his "old new boots" he was wearing-he said they were from WWII with a man's last name written in them--you know Dierks and his love of old things, even us old fans--and him thanking me for asking because it is a great way to introduce the next song which happened to be one of my favorites, "My Last Name" Second favorite memory being with all the DBC members at Joe's on Saturday night--feels like family whenever we are all together! - Becky Wierzbicki (DE)
"Total miles 1370. My favorite memories were being first in line at the Hard Rock and second, Dierks handing me a bottle of Bud light during the show." -Janet Lowe (NJ)
Here are more memories from DBC reps who make this an annual trip!
"Fav memory is "Wish It Would Break" for sure!!! Only 40 miles round trip! - Alicia Alarid (TN)
"884 miles. Creepin' w/carrie & Sandra." -Kathy Butler (IN)
"Won't be home until next week since I'm doing a GSLRT ("Great Southern Loop Road Trip"), but 1020 miles one way to Nashville. At least having a last minute "Plan B" mini-concert." - Jane Sumner (NY)
"Just a measley 400 miles. Memory, seeing 10 State Reps at the pre-party. Just a great weekend. Mood swings up and down capped off with a impromptu fan club like performance...smiles all the way home!" - David Mattingly (KY)
"700 miles. The hug and apology I got from D about the cancellation. He may have been more bummed than we were!" - Kristin Houghland (IN)
"
About 550 round trip this time only because I went to Memphis on Sat. morning and then to Nashville and then home. (If didn't go to Memphis then only 380 round trip.) My fav part was probably going to the dealership because we hadn't been down there yet because we usually get in line at Riverfront.
- Amanda Morris (MS)
"About 900 miles round trip for me and
Sandra
. I have 3 favorite memories: 1. Wish it Would Break after
Alicia
and I yelled for it. 2. Creepin with
Kathy
and Sandra (& showing Nashville to Sandra for the first time!), and 3. Making
Amy
feel like she was there.
:)
" - Carrie Srebro (NC)
"
Drove 285 miles and just enjoyed my whole weekend. Met 2 new friends that made me laugh so much. My favorite part though was racing from the Harley bike shop to Hard Rock without killing us all. Dierks was awesome letting us know what was happening so we could be first in line."
- Ann Tate (AL)
"
About 400 miles round trip and hearing Dierks sing, "My Last Name" and "Wish It Would Break" and seeing James Otto at the dealership and the Hard Rock (where he sat about 15 ft away from me the whole time he was there) and getting to see Sheryl Crow for the first time
." - Julie Griffin (IN)
"500 miles round trip. Getting my CW Magazine signed by Dierks at the dealership. He put a

:(
on it too after Miles & Music 2012. Just happy Amanda got to see him perform after trying to see him the third time this year. LCB cancelled, St. Louis show cancelled and M&M cancelled. Great concert made up for it though! - Debbie Hale (IL)
Dierks Bentley. Photo Credit: Ronna Clark
Dierks Bentley. Photo Credit: Carrie Srebro
Cassady Feasby and Sheryl Crow, Hard Rock Cafe Nashville, 10-14-12, Photo Credit: Ronna Clark
Brian Layson, Cassady Feasby, Dierks, Steve Misamore on drums, Sheryl Crow. Photo Credit: Ronna Clark
Carrie Srebro captured the Set List--Wish It Would Break & My Last Name are not listed--that's when he "stretched"
knowing Sheryl Crow was on her way!
When Sheryl Crow hit the stage she said, "I was with Dierks' wife Cassidy and our kids were playing together when we found out this was happening, I said, 'let's go down there and see what's happening'. What can I say, I'm a jam whore.'" Her first song was "If It Makes You Happy."
When Dierks introduced Sheryl and told the crowd, "Look at the smile on my band's faces!" he stepped side stage, but he couldn't hide his own smile either!
Dierks's smiling face watching Sheryl Crow perform
"I still can't believe Sheryl came by... she jumped in her car and came over the minute she heard it was happening."
After the show, Ricky Kelly, @TheHarleyGuy, presented items to bid on to further benefit Vandy's kids. I think a DB signed motorcycle gas tank raised $3,000!
Ryan interviewed two of our 'shy' (not!) DB Congress Members, Sandra (NC) and Kathy (IN) and included them on this week's DBTV! I love when Dierks says he wanted to do something for his hard core fans!
Me? I flew in from Florida - 1440 round trip. Favorite memory? How
special
Dierks made the fan club feel, and experiencing him sing "Wish It Would Break," a rare treat!
Every Mile A Memory...every song another scene...red sun down...out across the western sky...takes me back...
~Ronna Clark
DB Congress Chair
Florida